Color is a potent design tool. When selecting a color palette for your project, you're not just choosing colors – you're shaping the mood, feel, and even first impression of your website or app. Picking the right color palette is crucial for creating compelling web, mobile, and brand designs.
To aid in your color choices and effectively convey your visual messages, we've curated a list of the top 18 color palette generators for UI/UX designers to create a better web, mobile app, and brand design.
And before diving into development, you may also fully explore all color and design ideas with more color tools or our prototyping tool.
What is a color palette?
A color palette refers to a combination of colors that designers and artists select for their designs, artwork, or any other creative project to capture people's attention.
When it comes to UI/UX design, a color palette signifies a collection of colors that UI/UX designers use to define their brand and create a harmonious and seamless visual experience.
Actually, when working on a web or mobile app design project, the right color palette can not only determine whether the project attracts users at first sight, but can also evoke specific emotions in the target audience effortlessly. Therefore, whenever it happens, taking your time to choose the most suitable color palette for your project is always advisable.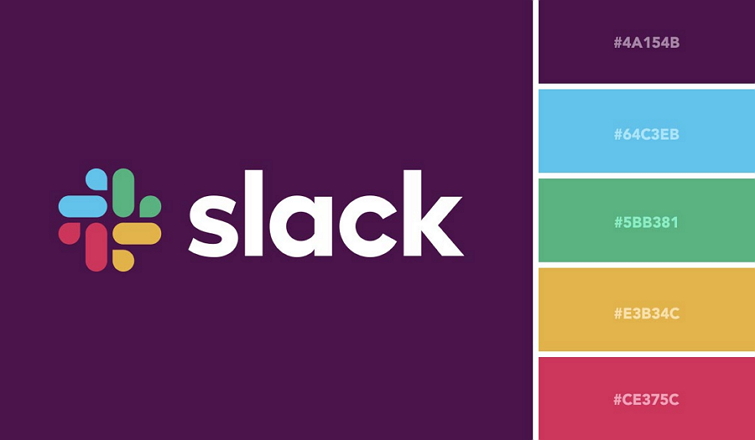 A color palette example of Slack
How to create a color palette for your project?
Picking a perfect color palette for your web and mobile app project can be really tricky. And here are some general steps that you can follow:
Step 1. Understand your brand and choose a base color
Delve into your brand's essence and opt for a foundational color. Delve into your audience research and engage in discussions with your team to outline the intended purpose, mood, or message you aim to convey through your project or brand. Subsequently, pinpoint the base color that effectively aligns with your goals and concepts.
Step 2. Choose supporting colors
A good website or mobile app project always demands a palette of colors. While the base color encapsulates your project's primary theme, the accompanying supporting colors work in tandem to complement and harmonize with it.
And you can consider utilizing a tool like a color palette generator to find a color combination that best suits your project and brand.
Step 3. Add hues, tints, variations, and more
To create a cohesive visual experience for the target audience, you should also consider adding additional hues, tines, variations, and other color elements to add depth and variety to your palette and design.
The more complex your web or app project becomes, the more challenging the process of creating a color palette can be.
What is a color palette generator?
A color palette generator is generally an online or desktop color program that helps you create a perfect color palette for your design project and timely preview the visual effect by choosing the base colors, supporting colors, and other additional color nuances on the color wheel.
These tools are not only good for designers to quickly find their perfect color combinations and also help to resolve many color-matching problems during the color selection process.
Why use a color palette generator?
Creating a color palette for your web or app project can also be time-consuming. So, to streamline the whole process, many designers choose to use a color palette generator, because it brings many benefits, including:
Faster and easier: The color palette generators make it much faster and easier for designers to select the base colors, complementary colors, and the like color combinations.

Visual cohesion: These tools ensure that the chosen colors harmonize and work well together, resulting in a more cohesive and visually pleasing design.

Generating matching colors automatically: While choosing a base color, these tools will also generate the matching colors for you immediately, offering more color combination options and possibilities for you.

Providing design inspiration: Some color palette generators are designed with pre-made color palettes for your inspiration.
Some online color palette generators also make it easier for remote teams to determine the color palette together smoothly.
In short, using a color palette generator empowers designers to create visually appealing, well-coordinated designs while minimizing the guesswork and challenges associated with color selection.
20 free and paid color palette generators
1. Adobe Color - a free online color palette generator best for Adobe users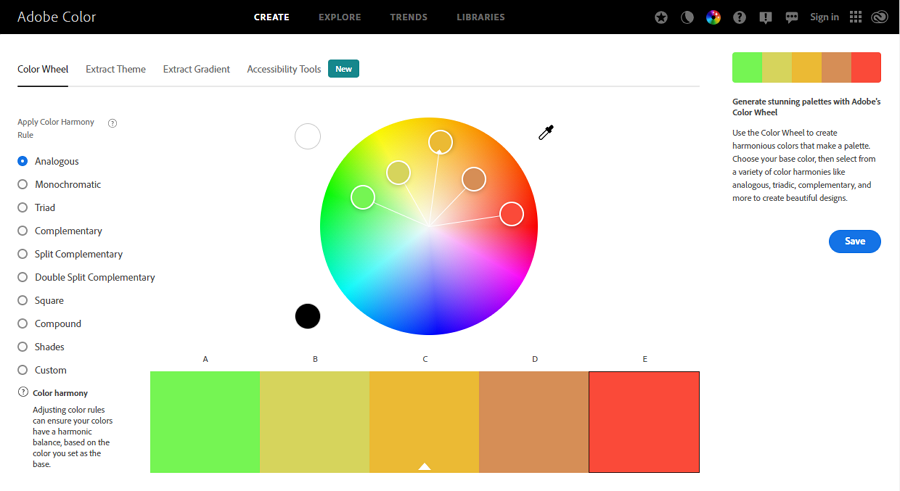 Adobe Color stands out as one of the finest free online tools for generating color palettes, which makes it much faster and easier for users to find the right color combination for their brand and project by providing several options, such as:
Generate a color palette manually - users can just drag and drop the five color handlers on the color wheel to create their own color combinations. And there is also a range of color type options like Analogous, Monochromatic, Triad, Custom, and more to make the process even quicker.

Upload an image - If users have an image in mind, they can effortlessly extract a desired color theme with just one click by uploading that image into Adobe Color.

Find colors from trending libraries - Users can also browse through trending color libraries to discover and choose the perfect color palette that suits their needs.
Once they have created the ideal color combination, they can directly save it to their own libraries. And the best part is that these color palettes can also be shared across various Adobe tools like Photoshop and Illustrator. With all these features combined, Adobe Color becomes a perfect option for Adobe users.
2. Coolors - a cross-platform color palette maker that adds a touch of fun to everything
Coolors is a simple and intuitive color palette generator that turns everything into a fun game. With Coolors, discovering your ideal color scheme is as simple as a tap of the spacebar or the direct upload of an image. Once you've curated your desired colors, you can also easily export them in various formats, and share them through a single URL.
Moreover, as a versatile cross-platform tool, Coolors not only integrates smoothly with web browsers but also offers downloadable versions for iOS and Android, ensuring accessibility from your mobile devices. The added Adobe extension further streamlines the application of your color blends across a range of Adobe tools.
3. Colormind - a free, simple color palette generator best for beginners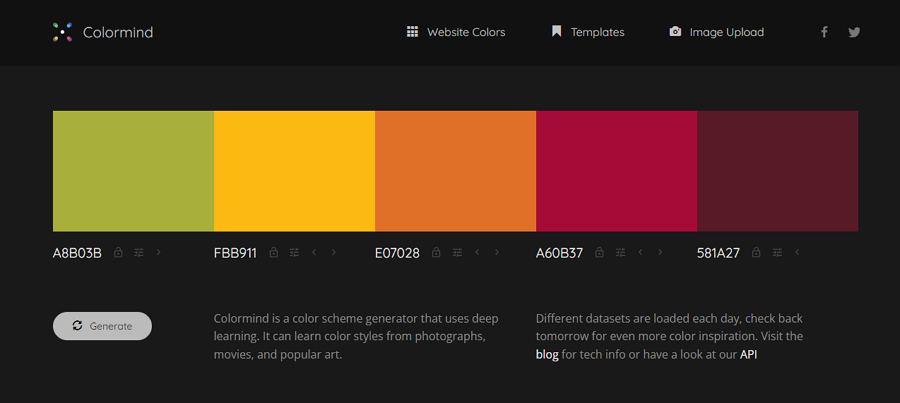 Colormind is a free color palette generator that makes everything super simple. Its user-friendly nature ensures that even those new to design can confidently specify five foundational colors, leading to the creation of a diverse array of interconnected color palettes. This array facilitates the precise selection of the perfect palette for one's brand or interface design.
Should the task of specifying five colors appear somewhat complicated, fret not. Colormind offers a range of predesigned color palette templates, alongside the option to directly experiment by uploading a preferred image.
4. Colorspace - an online color palette generator for people with a concept of the base color in mind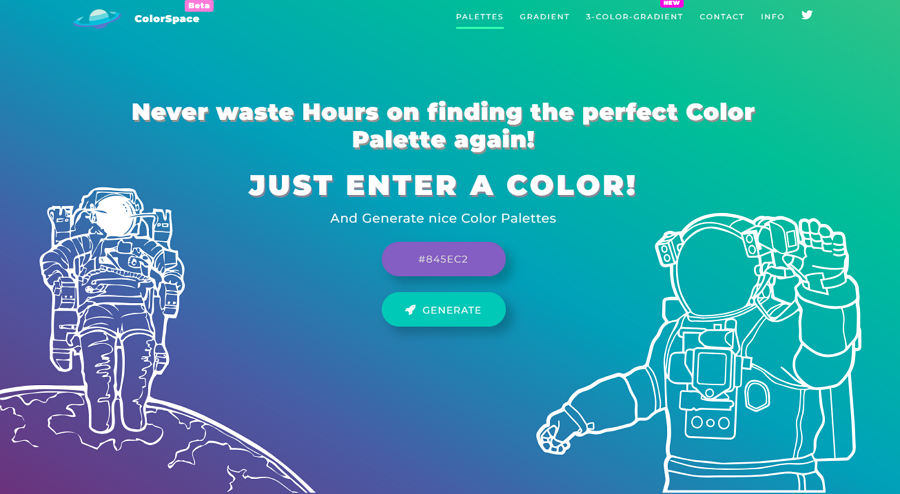 If you and your team already have an idea of the base color concept in mind, your search ends here. Colorspace presents an excellent solution for swiftly discovering the ideal color palette.
The process is remarkably simple: just input the color value of your chosen base color and click "Generate." Instantly, an array of diverse color palette options will be presented, enabling you to swiftly select the most fitting choice.
Furthermore, with its latest enhancements, Colorspace now empowers you to effortlessly create gradients using just three colors.
5. Paletton - a free online color palette generator that allows users to preview color effects instantly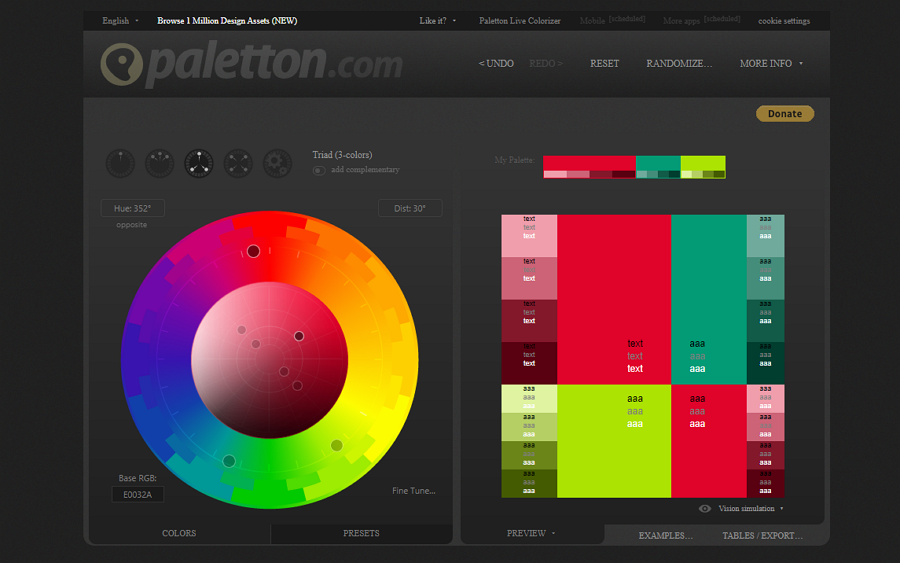 Paletton is a powerful free color palette generator, granting you the ability to handpick your preferred colors from the color wheel and effortlessly auto-generate a harmonious palette on the adjacent side.
The true brilliance lies in the right section, which provides instant previews of the color effects. For instance, you can readily observe how your palette complements text or even gain a real-time perspective by applying it to a live website mockup.
The tool further extends its utility with direct exporting options. You can conveniently export your meticulously curated color palettes in an array of formats, ranging from CSS/HTML codes to PNG, Photoshop, or Sketch palette formats.
6. Color Hunt - a free online platform for designers looking for color palette inspiration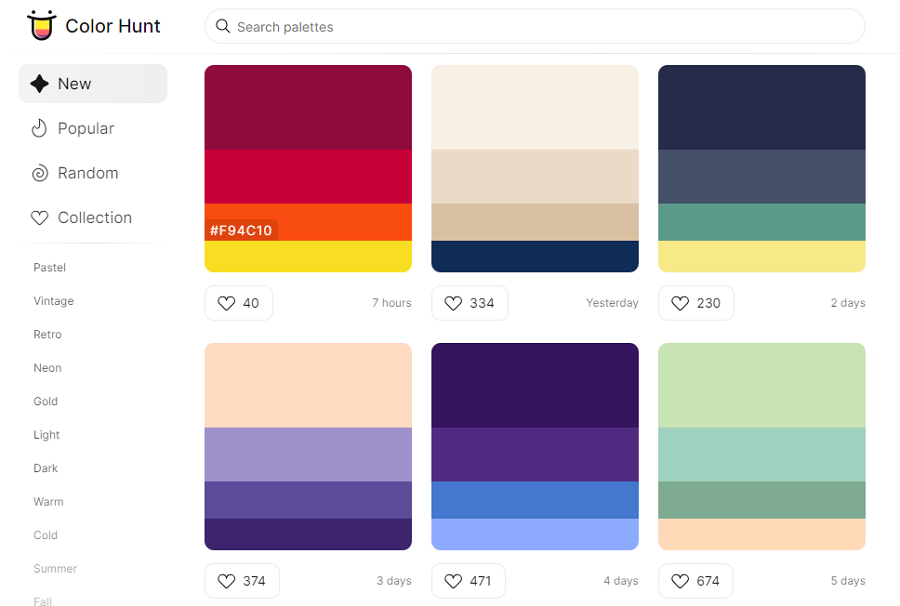 In need of fresh color palette inspiration for your brand or web design? Go check Color Hunt! Even though it isn't just your typical color palette maker, it shares a large number of color palettes created by designers and artists around the world.
Not only can you input keywords related to color, mood, or brand identity to discover your ideal palette, but you can also take advantage of its robust filtering capabilities to pinpoint the perfect combination for your brand and web design.
And it is worth noting that, the color palettes listed there are updated frequently, ensuring that you can always access the latest and most trendsetting options available in the world of color design.
7. Khroma - an AI-powered color palette generator that suggests options based on your favorites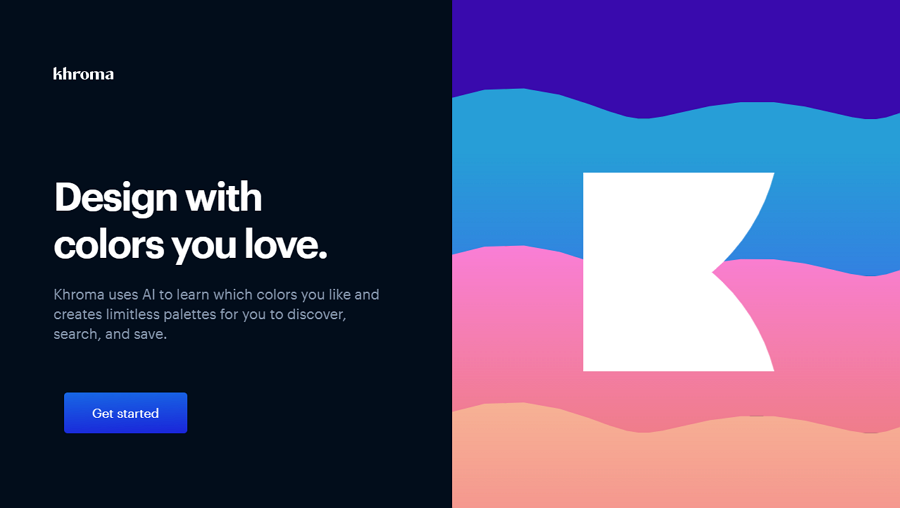 Have no any idea about the color palette options for your brand or design project? Go get some inspiration with Khroma.
Khroma harnesses the power of AI to comprehend your preferences through your selection of 50 favorite colors. It then furnishes you with a wealth of color palettes, offering inspiration and helping you discover the perfect match for your design and brand.
For enhanced usability and sharing of these color combinations, you have the option to save them to your account and integrate them into your templates. This facilitates their seamless reuse across your projects.
8. Colorkuler - a paid online color tool that helps to find a color palette for your Instagram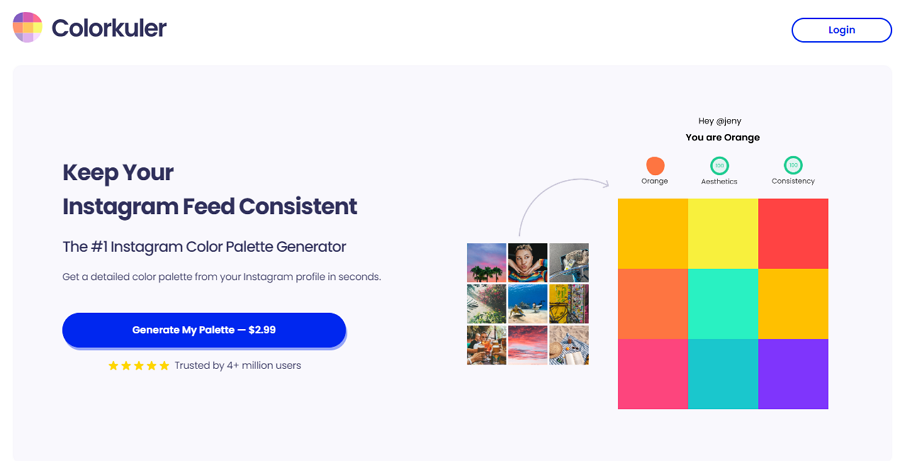 Colorkuler becomes popular as an online color palette tool tailored explicitly for Instagram feeds. It presents an array of vibrant and captivating color palettes, carefully curated to align with the current trends and ideally suited for Instagram aesthetics.
While Instagram themes may impose certain constraints on web and app designers, these captivating color combinations serve as a wellspring of inspiration. Designers can harness these palettes to craft more striking, dynamic, and appealing interfaces and designs.
For access to the complete suite of advanced features, designers have the option to upgrade their membership.
9. Brand Colors -a perfect online tool to generate color palettes for brands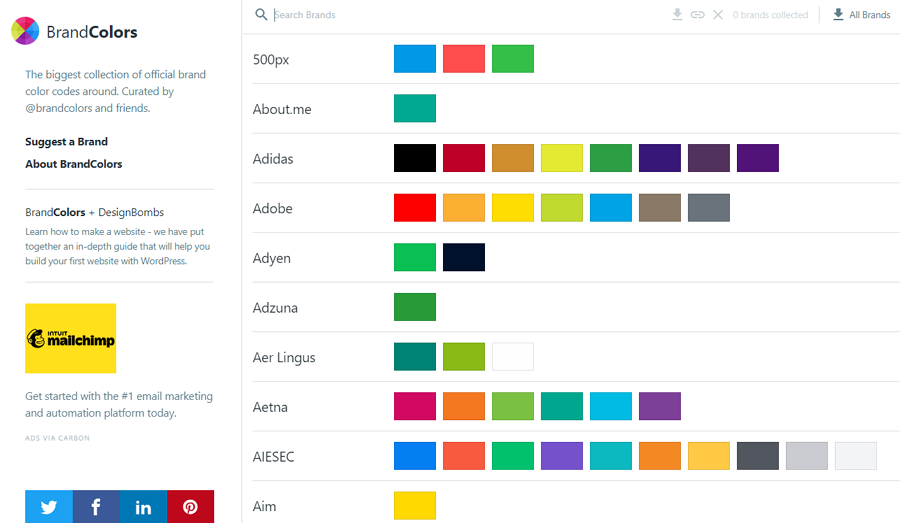 True to its name, Brand Colors emerges as an optimal choice for designers meticulously curating color palettes to encapsulate their brand identities. Brand Colors comprehensively compiles the complete color spectrums of renowned brands, allowing users to easily search for the desired big brand colors, take them as inspiration, download and share them with ease.
Undoubtedly, Brand Colors proves to be an indispensable tool for designers striving to maintain the distinctiveness of their brand and designs by sidestepping any inadvertent semblance with other major brands or competitors.
10. Color Designer - a free, simple color tool that helps to create more than color palettes
As a professional color tool for designers, Color Designer helps to generate a beautiful color palette, gradients, shades, and similar, which makes designing with colors easier. While generating color palettes using this tool, various options like the primary color or theme are provided.
When defining a specific color for the palettes, you can freely change smaller details like tints, shades, tones, and more, and more. There is even a list of pre-made color palette options based on different colors for you to choose from. It is an excellent option for designers to curate a perfect fit for their projects by adjusting color details.
11. Colourcode - a free, easy-to-use online color palette generator that enables you to export color palettes in coding formats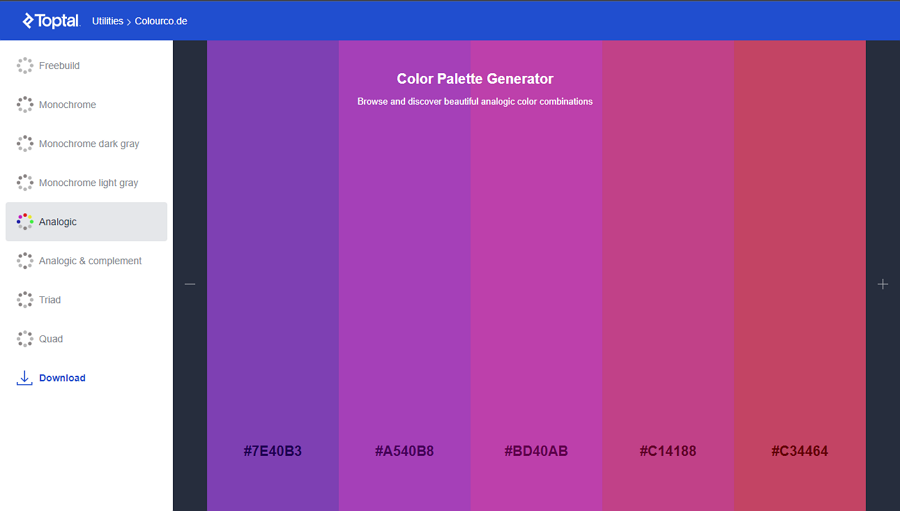 Colourcode stands out as an effortless and user-friendly online color palette generator. It empowers designers to effortlessly create flawless color combinations by inputting desired color values and choosing a complementary color scheme type, including monochrome, analogic, triad, and others.
With ease, designers can then download their creations in widely used code formats such as CSS, LESS, and SCSS. Additionally, sharing the selected color palette is a breeze through a single link.
12. Palette Maker - an AI color palette generator to get design inspiration from real UI, brand, or illustration samples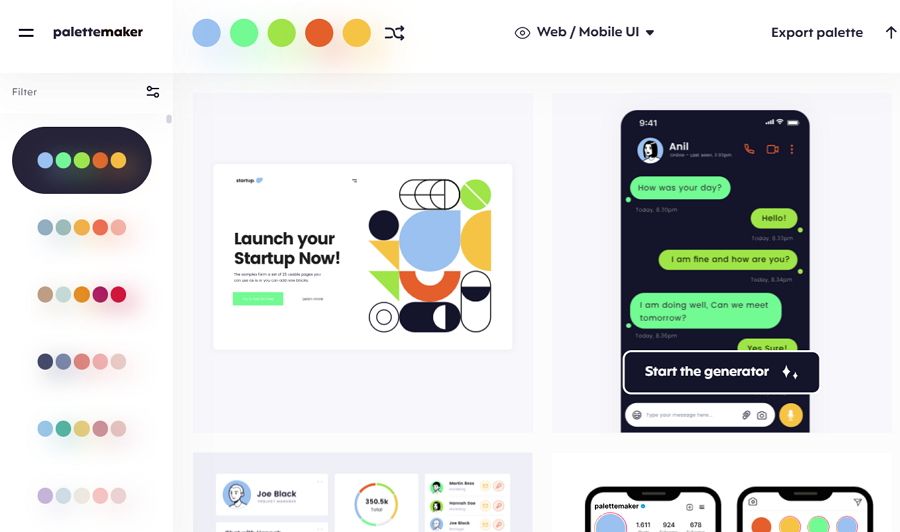 Palette Maker is another free AI-powered color palette maker that allows designers to randomly specify colors and find design inspiration from the real UIs, brands, logos, illustrations, typography, and even poster samples. The platform is equipped with robust filters that expedite the process of locating and selecting the desired color combinations with just a few clicks.
Once your color exploration is complete, Palette Maker offers various export options, including images, ASE, and coding formats, allowing for seamless integration into your design workflow.
13. Material Palette - an online color tool for designers to create perfect color palettes for their material design projects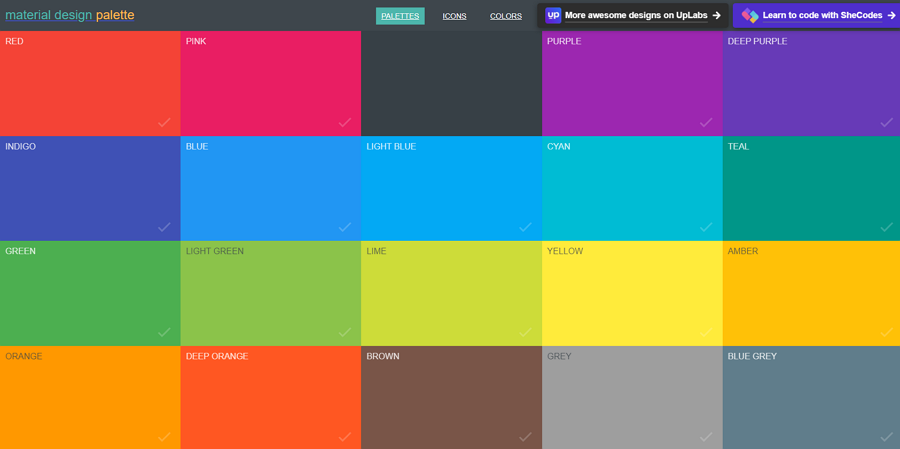 Are you engaging in a Material Design project? Look no further than Material Palette – your trusty companion for swiftly crafting impeccable color palettes. The process is elegantly simple: handpick your base colors from the intuitive grids, and watch as the corresponding color palette seamlessly unfolds before your eyes. Your options continue to expand – easily download your creation in coding or PNG format, or effortlessly share it via Twitter.
14. Huemint - a free AI color palette generator that allows you to curate every color on real web or UI design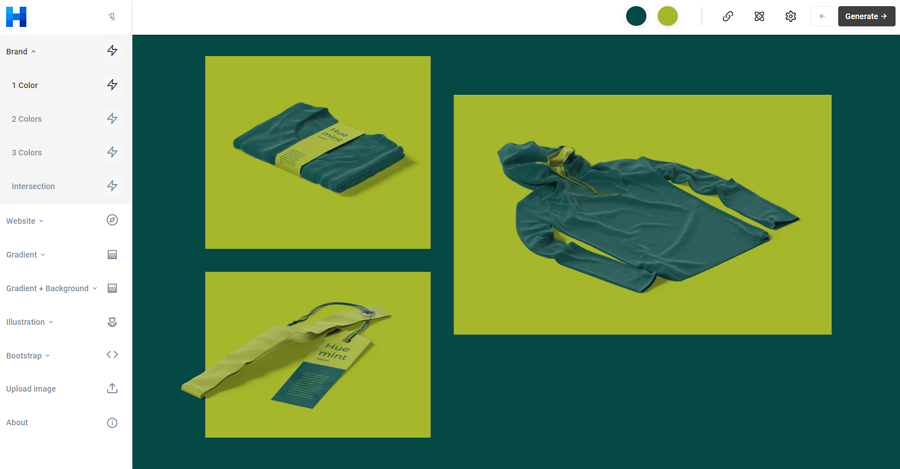 Similar to Palette Maker, Huemint also incorporates advanced AI technology to assist designers in crafting the perfect color palette for their branding and design projects. However, Huemint goes in different ways. While Palette Maker requires five color selections for inspiration, Huemint gives users the freedom to pick just one, two, or more colors based on their needs. Huemint goes further by providing detailed options like design types (websites, magazines), diverse color accents, and more, making it easier for users to find their preferred palettes quickly.
Notably, Huemint's standout feature is its ability to extract colors from uploaded images, allowing visual inspiration to directly shape the color choices. This user-friendly approach sets Huemint apart as an innovative and flexible color palette tool.
15. Color Magic - an online AI color palette generator that helps to generate options by entering keywords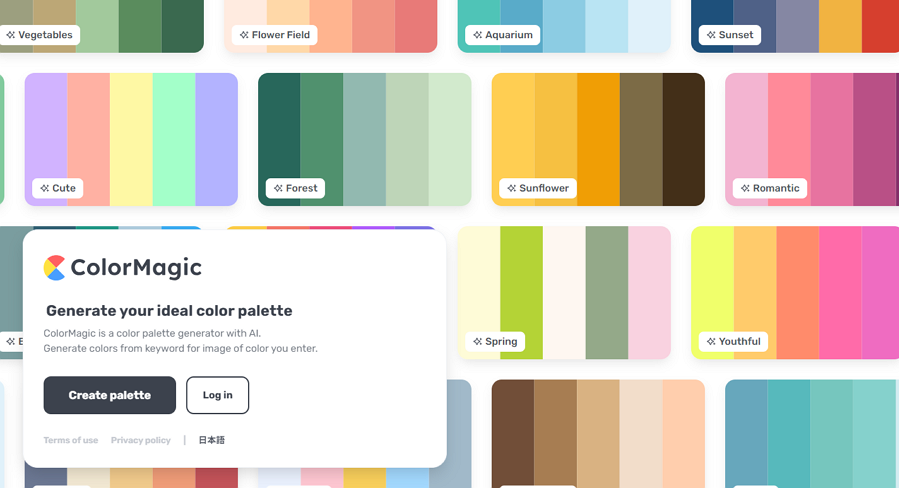 Color Magic is a simple AI-powered color palette maker that allows you to enter keywords that indicates your desired mood or image of colors to find the perfect fit. If the initial results don't match your vision, a simple "Re-generate" click unveils more samples. Additionally, you can save your favorites and conveniently share them via Facebook, Twitter, or a single URL.
You may also upgrade your account to unlock far more advanced features. Additionally, a Japanese version is available, tailored to provide a more user-friendly experience for those in Japan.
16. Super Color Palette - a professional online color palette with more customization options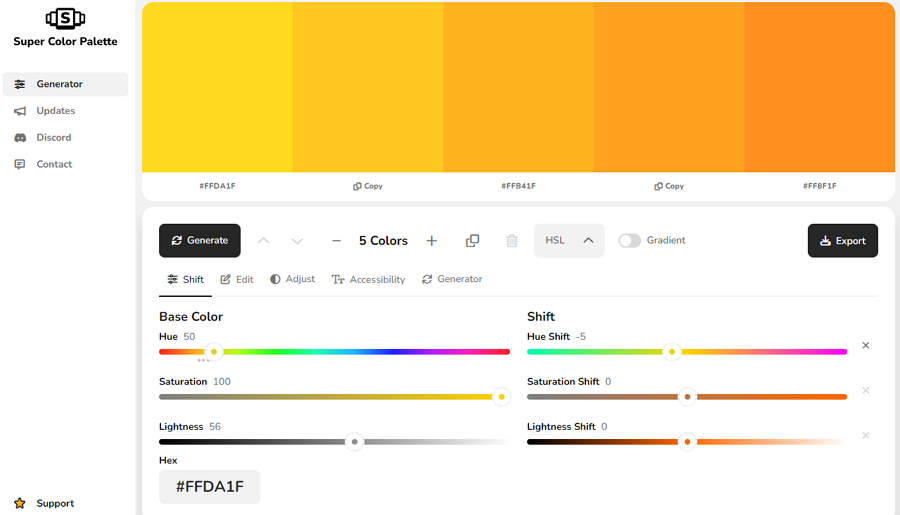 Super Color Palette is an easy-to-use color palette maker that empowers you and your team with robust customization capabilities. For example, with the freedom to choose your preferred number of colors, select specific color values, fine-tune color details, and more, your creative control knows no bounds.
Seamless download and sharing options are also at your disposal, catering to all your design scenarios with ease.
17. Fotor - a free and paid color tool that helps to generate color palette from images instantly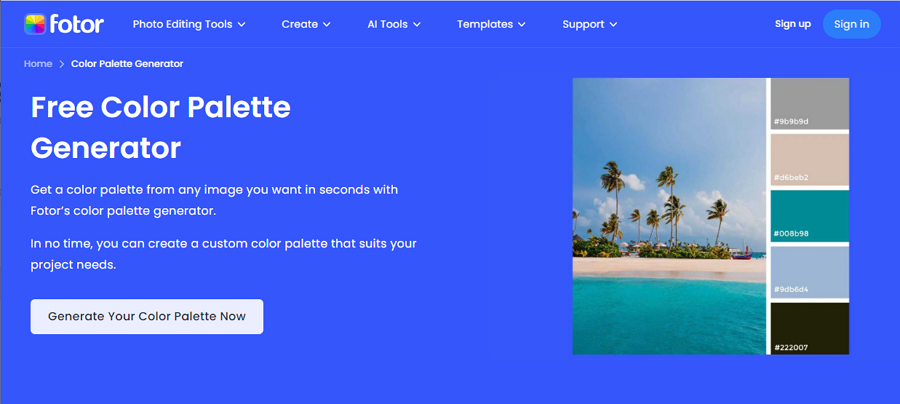 Fotor is actually an online platform that shares a huge collection of design resources and inspiration from all over the world. It also provides a user-friendly color palette tool that enables designers to extract their perfect color matches from carefully selected images. You can just hover over the imported images to capture desired colors, effortlessly assembling a personalized color palette.
18. Color Kit - a free, simple color palette generator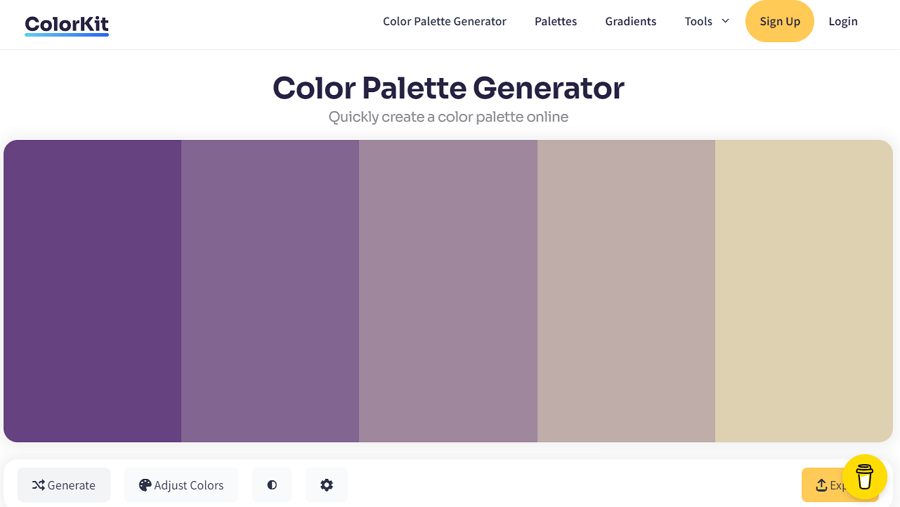 Color Kit has earned its reputation as one of the most user-friendly color palette generators available. It empowers designers to precisely define colors, select desired color types, and adjust them freely according to their preferences.
The tool offers a comprehensive range of export options, enabling seamless sharing of color palettes via URLs, PNG images, coding files, and popular social media platforms like Facebook, Twitter, and Pinterest. Ready to experience its simplicity? Take it for a spin today!
FAQs
What is a color palette vs color scheme?
A color palette is a set of colors that designers choose to use in their brand, web, or app design project. Its purpose is to establish a shared understanding among team members about the designated colors, ensuring design consistency across the project.

A color scheme is a specific color combination chosen from the color palette, aiming to create a particular visual effect or design.
Both of them are important terms used in UI/UX design, helping to create visually appealing and coherent designs.
How do I find my color palette style?
To find the most suitable color palette style for your project, the initial step is to truly grasp your brand, project, and the needs of your users. This understanding helps you pinpoint the mood, purpose, and message you aim to convey with your chosen color combination.
Afterward, you can dive into the steps outlined in the "How to create a color palette for your project?" section above for more in-depth guidance.
What is the most beautiful color palette?
Here are the 36 beautiful color palettes that you can check to ignite your creativity. When choosing these color palettes, you should also remember that different combinations of colors have the power to evoke different emotions. When selecting a color palette, it's crucial to not only prioritize visual allure but also to take into account its potential emotional impact.
Conclusion
Choosing a color palette isn't just about selecting attractive colors for your website, app, or brand—it also influences the overall vibe, atmosphere, and even the initial impression of your digital creation. Deciding on the perfect color combination for your design project can sometimes be a bit challenging and time-consuming.
That's why we've gathered a list of 20 top free and paid color palette generators to assist you in streamlining the process and making it more manageable.
Free prototyping tool for web and mobile app design
Free prototyping tool for web and mobile app design
Free prototyping tool for web and mobile app design