While working on a project, have you ever found yourself lost in a mess of ideas and thoughts? Consider sketching a mind map—an effective technique for visualizing your ideas, branching them out, and achieving a newfound level of clarity rapidly and visually. A mind map works as the perfect tool for individuals like you to extract insights and bring clarity to your project using simple lines, shapes, and keywords.
However, if you're unfamiliar with the concept of mind maps and unsure about how to craft one for your project, your search ends here. We've compiled this article to explain its definition, benefits, typical examples, and templates, as well as a simple guide on how to create one on your own, step by step.
(For those who happen to be students, teachers, or designers specializing in UI/UX or web/app design, our prototyping tool can help you draw out any mind maps with just drag-and-drop, saving you a lot of time and effort.)
What is a mind map?
A mind map is a visual flow diagram that helps to present all your ideas in a visual and hierarchical manner around a central idea, simply by utilizing lines, shapes, keywords, and similar super simple and quick elements. It commonly adopts a structured approach to visualize all thoughts, enumerate all possible information, and attempt to stimulate new ideas or insights based on the depicted visual diagram.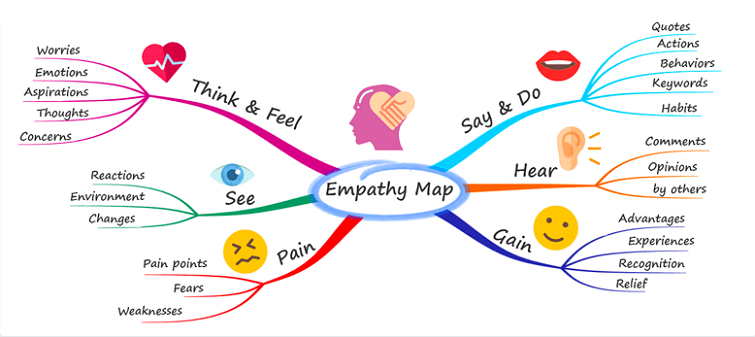 Therefore, a mind map is generally employed as a swift visual tool to brainstorm, plan, or organize ideas and thoughts for enhanced team communication and collaboration.
What essential elements should a mind map include?
To ensure quick visualization and inspiration, a mind map is often made to be as simple as possible and includes the following essential elements:
Central topics or themes - To connect and present all ideas logically and clearly, a mind map often starts with a central topic or theme. All branches, sub-branches, and keywords are generated from the main topic or theme placed at the center.

Branches and sub-branches - To showcase ideas clearly, you can extend from the central topic by adding branches and sub-branches that draw out related sub-topics in various directions.

Connecting lines and keywords - To visually show the hierarchical relations between these branches and sub-branches, you can employ connecting lines between branches and sub-branches. Including keywords above these lines aids your audience or partners in grasping the information you're conveying.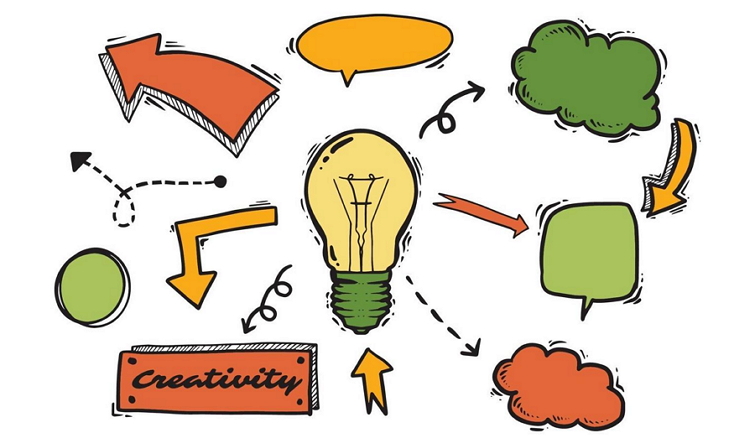 These are the three basic elements that a mind map must include to perfectly present all possible insights. Beyond these, you may also enrich the diagram with additional elements like colors, icons, emojis, and any other details you wish to include.
What is the main purpose of a mind map?
Due to its simplicity, clarity, and easy creation, mind maps are used for many purposes, such as:
Brainstorming - A mind map is a perfect tool for a team to brainstorm together around a topic.

Planning - Use a mind map to plan an event or project, set goals, and outline all actions step by step.

Organizing - Organize all individual ideas and thoughts around a central topic with mind maps.

Presenting - A mind map helps to present all design ideas to the audience more intuitively, making the understanding process as simple as possible.

Studying and analyzing - A mind map is also a good tool for people to focus on a specific topic, analyze all gathered information and resources, and ultimately arrive at a much better decision.

Note-taking - Mind maps are effective tools for taking notes from a lecture, presentation, meeting, or even brainstorming session.

Problem-solving - While trying to solve a problem, drawing a mind map also helps to break down complex problems into smaller components, and think through all possible factors to work out a much better solution.

Communicating and collaborating - When compared to long sentences or short descriptions, mind maps seem to be easier and faster for designers to deliver their thoughts.

Other diagramming - When working on a project or event, people may also need to diagram a mind map to present other information and data, such as drawing a mind map to present user flows at the brainstorming stage of web design.
How to create a mind map step by step?
Step1. Begin with the central topic
Choose the topic or theme that you want to walk through
Step2. Add branches and sub-branches around the topic
Think about all possible sub-topics that are related to your central topic
Step3. Connect them all with logical lines and add keywords to explain the logical relations
Step 4. Add extra information, such as images, colors, emojis, or the like elements
To simplify the creation process, you may also try some mind map makers.
Top 5 mind map makers you should never miss out
1. Mind Mup - an online mind map maker that helps you create storyboards, share your mind maps on social media, or export them to PDF, PowerPoint, and more file formats.
2. Mockplus - as a UX design tool, Mockplus offers a special mode for designers and teams to draw any desired mind map or UX flowchart with a library of shapes, symbols, and other diagramming elements, with just drag-and-drop. The connecting lines between branches will auto follow, and allows you to add keywords or description with a double click.
3. Miro Mind Map - a visual mind map maker that comes with premade templates to help you jump-start your mind map and design project.
4. Lucidspark - a virtual whiteboard for mind mapping and collaboration.
Best virtual whiteboard for mind mapping and collaboration
5. Click Up - a mind mapping tool that provides two types of options: task-based mind maps and node-based mind maps. You may feel free to choose based on your own requirements.
28 mind map examples, templates, and ideas for faster visualization
Now that you have a grasp of the basics of mind maps, it's time to explore a variety of mind map examples and templates that people frequently employ for various purposes. We hope these examples inspire you to create better mind maps:
Mind map examples for students
1. Note-taking mind map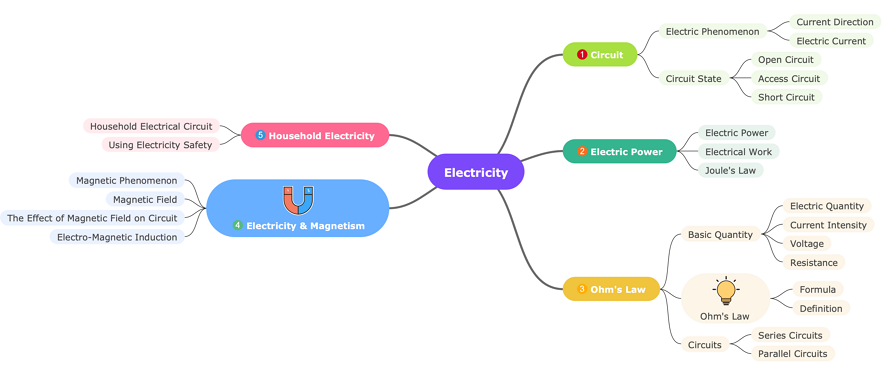 For students, engaging with various professional courses has become a fundamental aspect of their educational journey. Employing a note-taking mind map to distill and structure intricate subjects into essential concepts not only simplifies the process of review but also enhances the speed and efficacy of information retention.
2. Essay planning mind map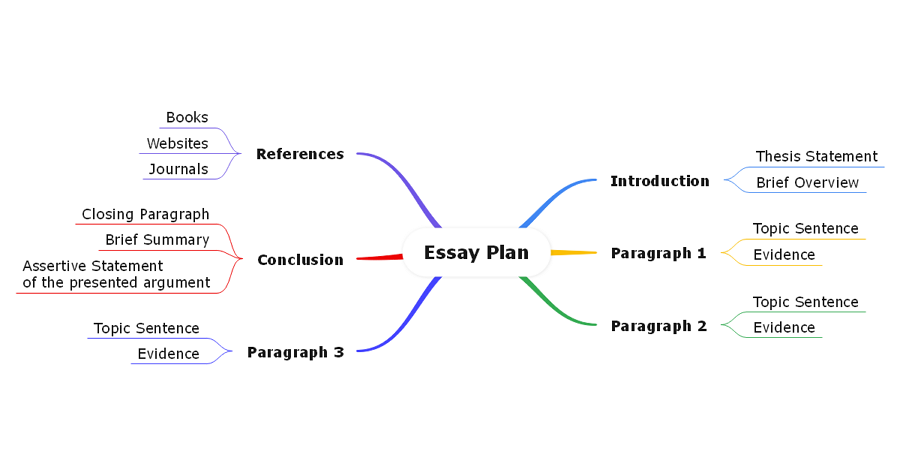 When embarking on the task of composing an essay or research paper, students frequently find it beneficial to create a coherent mind map that delineates the framework, key concepts, supporting details, and more. This methodical approach of adhering to the outlined mind map streamlines the entirety of the writing process, expediting it significantly while also mitigating errors and challenges.
3. Memorization mind map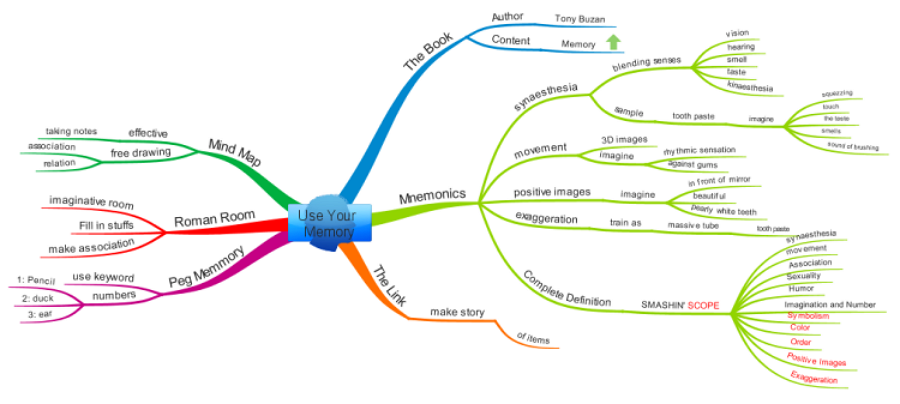 While learning some complex knowledge, such as UX design basics and skills, mind maps also help to visualize, go over, and memorize all kinds of information intuitively, from vocabulary to important names and skills that students need to know. There is actually no fixed pattern. You can just follow your mind and thoughts to draw out all related branches and sub-branches.
4. Reading comprehension mind map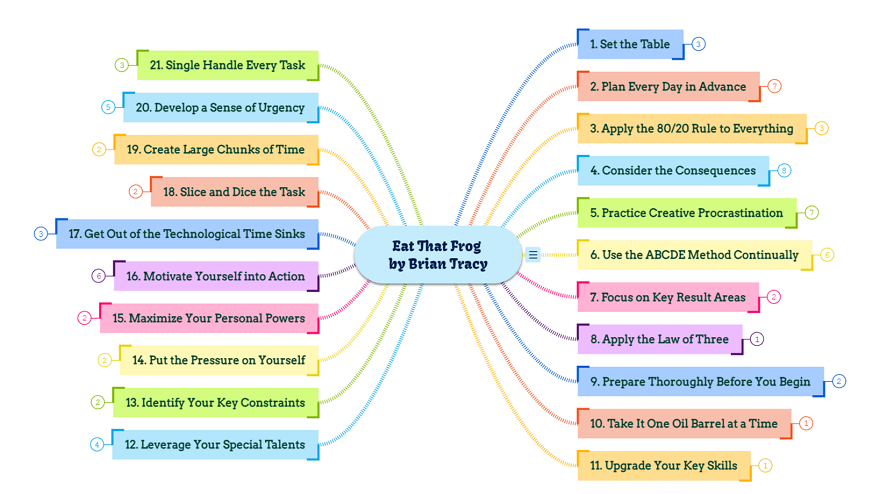 During the process of reading a book, individuals like students can occasionally find themselves overwhelmed by an abundance of characters, intricate relationships, themes, and plots. During such instances, it becomes helpful to create a straightforward mind map that encapsulates the essential plot characters, themes, pivotal plot junctures, and crucial details. This approach ensures a consistent grasp of the book's content.
Even after finishing a book, mind maps also serve as a valuable tool for crafting concise summaries during the course of your reading journey.
5. Vocabulary expansion mind map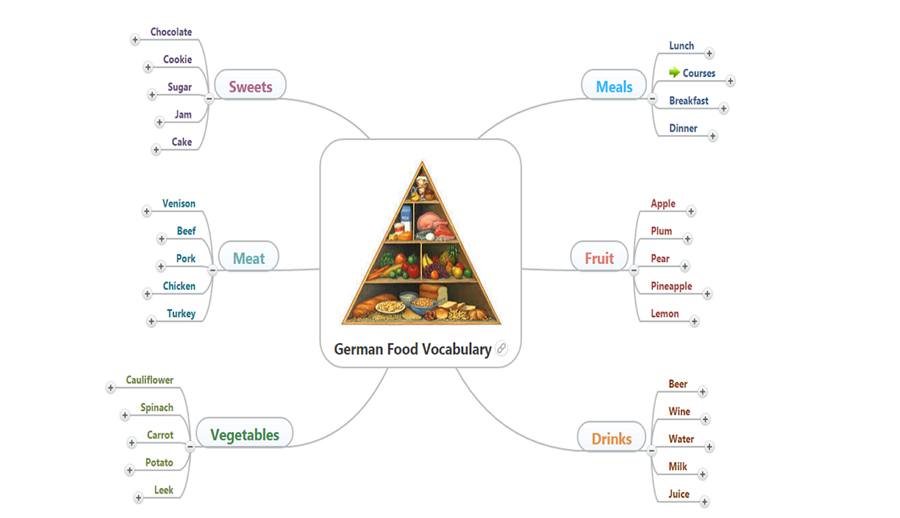 Mind maps serve as highly effective tools for students to enhance their word memorization process. By utilizing mind maps, students can effortlessly establish connections between related words, facilitating the assimilation of diverse meanings, synonyms, and usages.
6. Semester planning mind map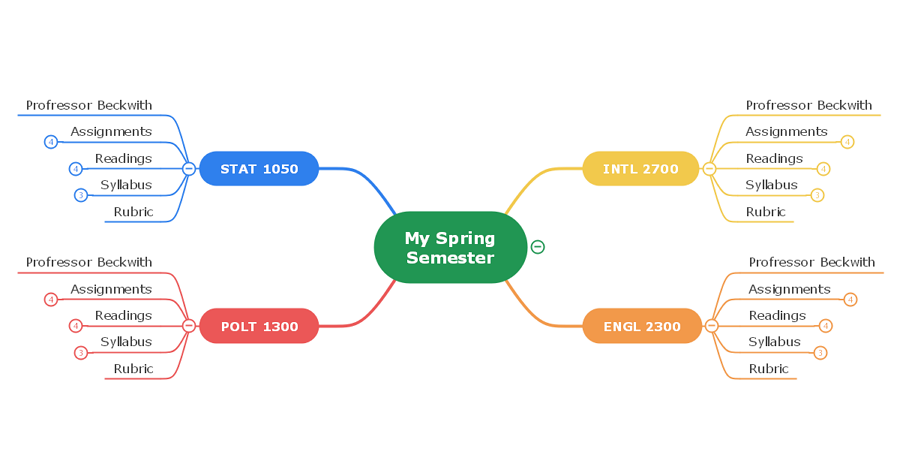 When a new semester is about to commence, it marks the opportune moment for students to craft a comprehensive mind map to plan and keep track of the coming semester. It tends to outline key classes, dates, assignments, exams, study goals, and more in one central location. This mind map empowers students to strategically manage their time, allocate resources, and maintain a structured approach to their coursework.
With a clear and user-friendly format, this mind map diagram will also serve as a compass for students to stay on track, prioritize tasks, and strike a harmonious balance between their academic commitments and personal pursuits.
7. Exam preparation mind map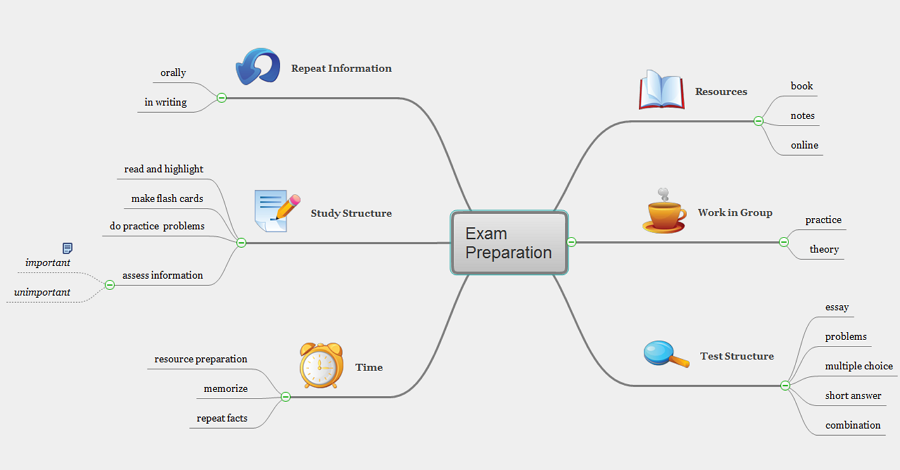 As a semester draws to a close, the final one or two months can get pretty crowded with different exams. To alleviate the exam stress effectively, the best solution is to prepare properly. Making a clear exam preparation mind map is the first step to make things go smoothly. Just trying to branch out all possible information of the exams with the mind maps - your class notes, key exam chapters, reading lists, and references.
8. Project collaboration mind map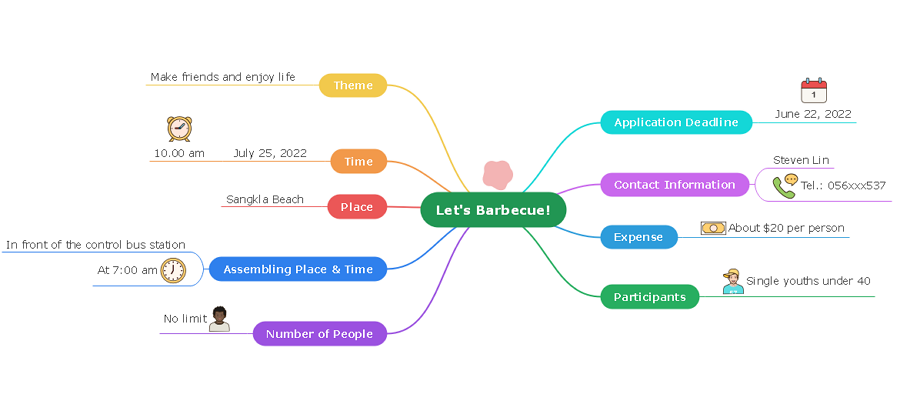 Among students, it's quite common to team up for particular projects or activities. Making sure everything is done on time requires a simple yet crucial step: crafting a concise mind map to neatly arrange all the necessary tasks, responsibilities, and deadlines beforehand.
The key consideration, when working on a project collaboration mind map, is to initially list all potential tasks and people that should be included. Remember to discuss with your teammates or partners to make sure everything is covered in your mind map.
9. Goal setting mind map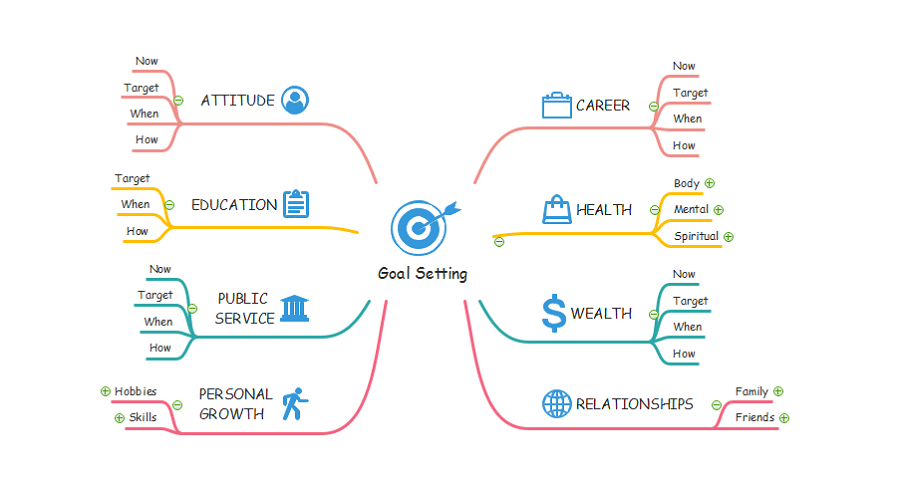 Among students, it's quite common to set goals for studying or life. Consider using a goal-setting mind map to make this process even more effective. This tool functions like a map, placing your main goal at the center and extending it into smaller steps and ideas that guide you to achievement, such as Academics, Health, Hobbies, Relationships, and Skills.
By using it, you can grasp both the overall picture and the specific tasks required. Enhance it with deadlines, resources, and potential challenges. This creative instrument serves to keep you organized and driven as you progress toward your aspirations.
10. Career exploration mind map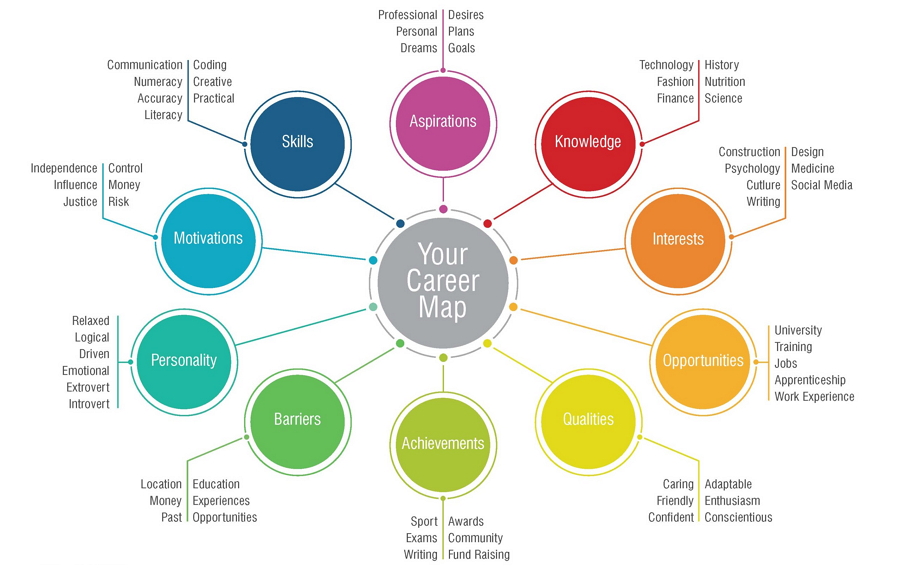 If you're considering delving into career exploration during your university life, a mind map can be an invaluable tool to streamline your thoughts. The image provided above offers a prime illustration of how a mind map can aid you in navigating your career options, including aspects like skill, interests, achievements, job opportunities and so many more.
Mind map examples for teachers
11. Lesson planning mind map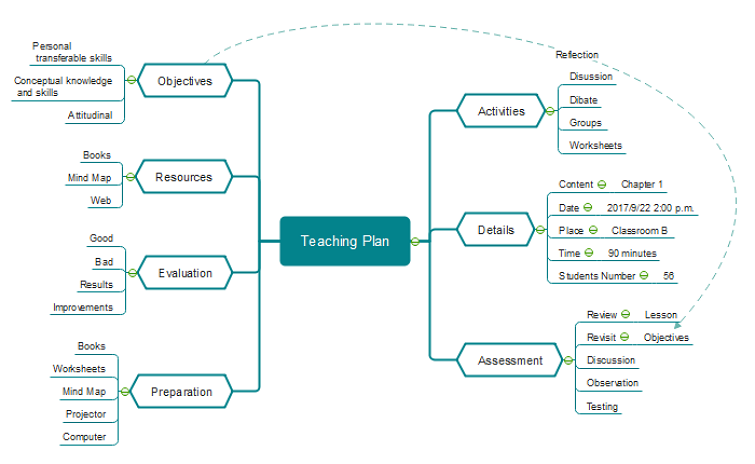 While preparing for a lesson, mind maps also help teachers lay out all related lesson information, such as the objectives, key points, activities, and resources. They assist in creating lesson plans, allowing teachers to gather all necessary information and estimate the flow of the lesson in advance.
12. Curriculum mapping mind map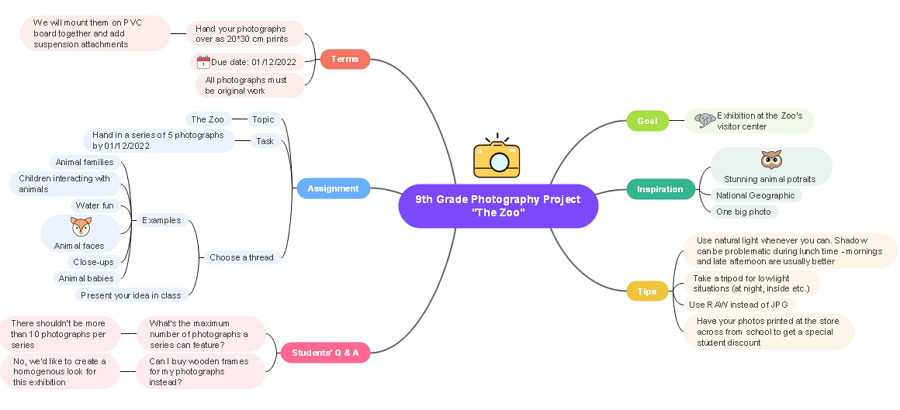 Besides employing mind maps for lesson planning, teachers often create a curriculum mapping mind map to visualize all units, topics, knowledge points, and learning objects within a curriculum. The most difficult part of creating a reasonable curriculum mapping mind map is finding a smart way to connect all topics together.
13. Class presentation mind map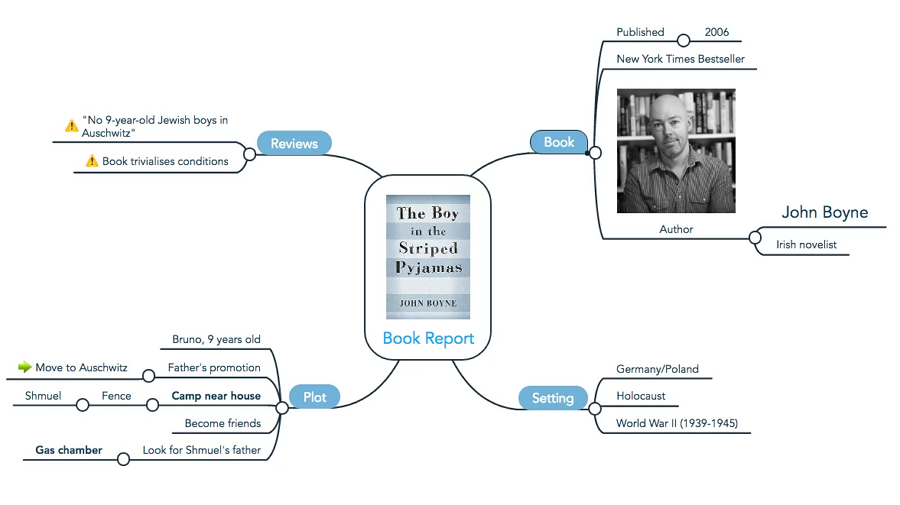 While teaching a topic or unit with complex relationships, teachers employ slideshows, videos, and sometimes even movies to demonstrate to students how key connections intertwine. In practical scenarios, they also adopt presentation mind maps, which facilitate a clear visual representation of relationships between different topics and sub-topics.
Mind map examples for business
14. Business brainstorming mind map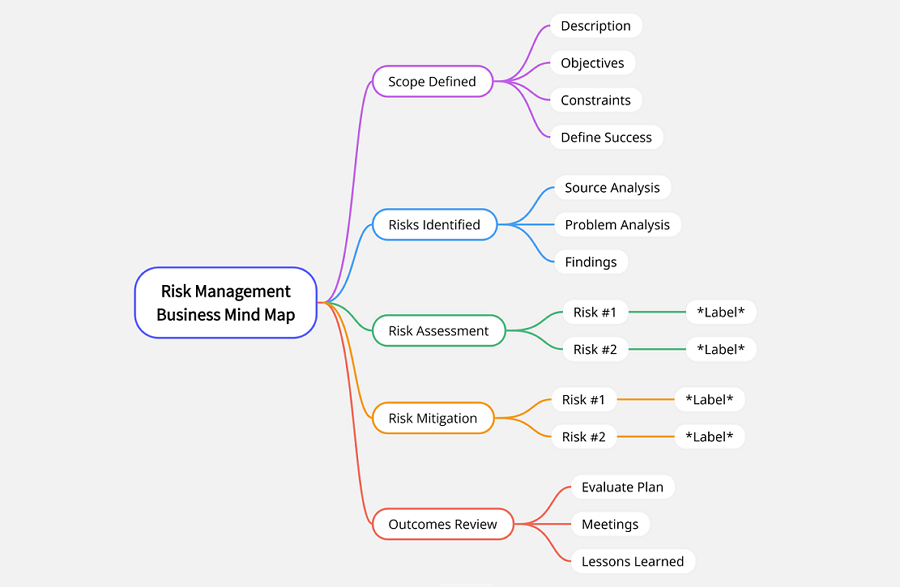 The most common use of a mind map is brainstorming. If you and your team plan to develop a new business or project, the first thing you might do is sort out all possible things, activities, or tasks that come to mind using a mind map.
For instance, when you're planning to create a game app, you can start with a central keyword like "game app" and branch out with secondary topics such as your goals, key functionalities, target audiences, UI/UX, development process, and more.
You don't need to include everything initially; you can expand and discuss further details with your teammates later. Just aim to capture all the ideas you can imagine at that moment.
15. Business research mind map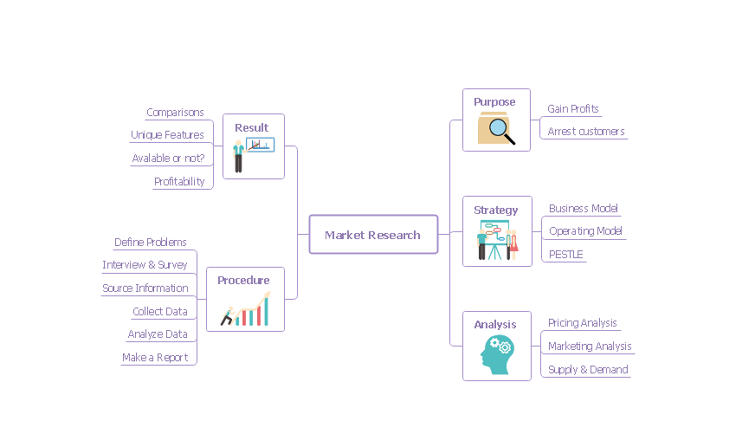 After having a macro understanding and planning of your business project, the next thing is to do some market and user research. At this phase, a mind map would also be helpful for you to tidy up all research resources and results.
16. Business planning mind map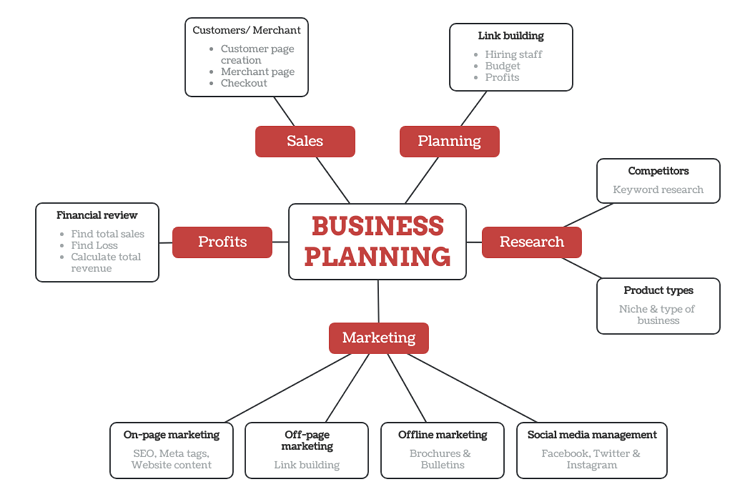 In today's fast-paced business world, people use a mind map to plan and strategize their business effectively.
Unlike traditional linear methods, this visual tool lets us organize ideas and concepts in a more dynamic and interconnected way. By using keywords and branching out, we can explore different aspects of our business plan, like goals, strategies, target audience, and more. It's a great way to encourage creativity, simplify complex ideas, and communicate clearly with our team.
17. Business strategic thinking map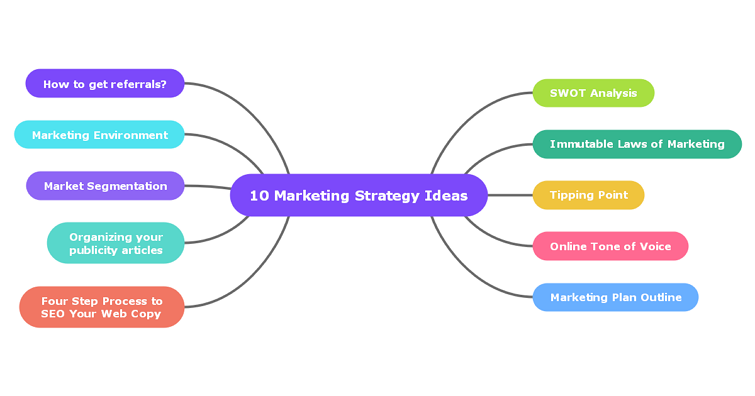 When you're working on a business or project, you might use different marketing strategies. Creating a mind map to show and understand these strategies can help you make better choices. Include important things like goals, studying the market, ways to beat competitors, how you'll present your product or service, plans to put things into action, and anything else you need based on your situation. This map can be adapted to fit what you need.
18. Business problem-solving mind map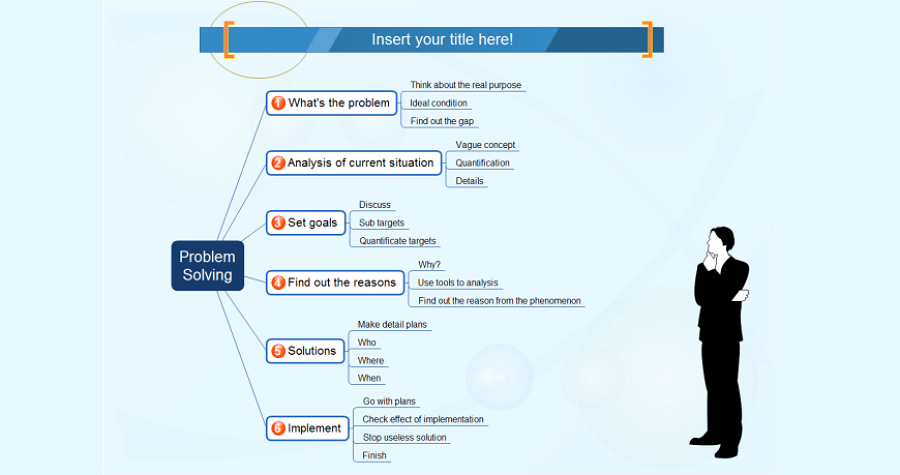 In every business, facing problems is unavoidable. As you strive to overcome them, utilizing a mind map becomes incredibly valuable. A well-structured mind map simplifies intricate processes and organizes complex details, enabling you to pinpoint essential components for practical solutions.
19. Group project mind map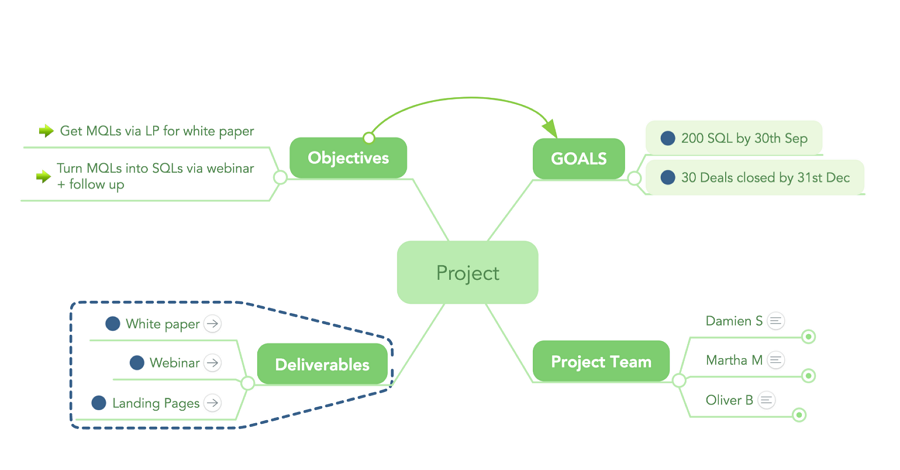 While working in a group or team for a specific project, you may try to make a group project mind map, which helps you list out all goals, tasks, and responsibilities. In addition, group project maps may act as a guide as your team progresses through the project.
20. Time management mind map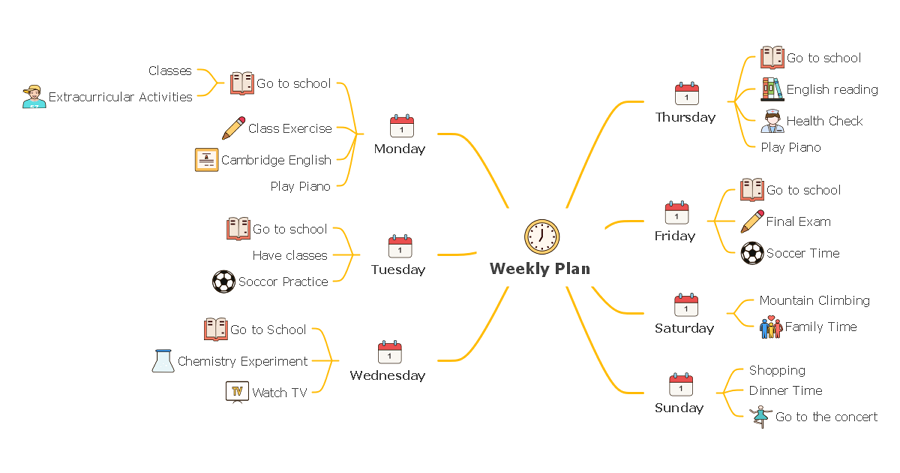 Whether you're a student, teacher, or designer, effective time management is essential for boosting productivity. Using a time management mind map with tasks, deadlines, and timelines, offers a more streamlined approach compared to conventional schedule timetables. This visual tool simplifies oversight and tracking, making it simpler to maintain your workflow rhythm. Whether it's for a personal project or team endeavor, consider crafting a weekly, monthly, or yearly mind map tailored to your specific needs, enhancing overall efficiency.
21. Business team-building mind map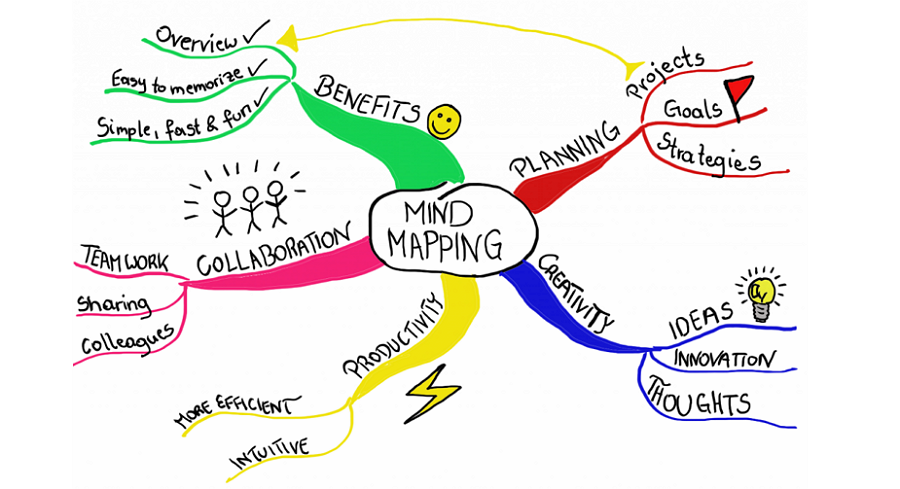 Effective team-building enhances collaboration among teammates and prevents unnecessary internal competition. Consequently, many companies organize team-building activities periodically to boost work efficiency. When planning such activities, utilizing a mind map can significantly reduce the workload and effort involved. In the process of creating a team-building mind map, you can also incorporate essential details like member information, team-building goals, games, timelines, and similar elements.
Mind map examples for designers
22. Website sitemap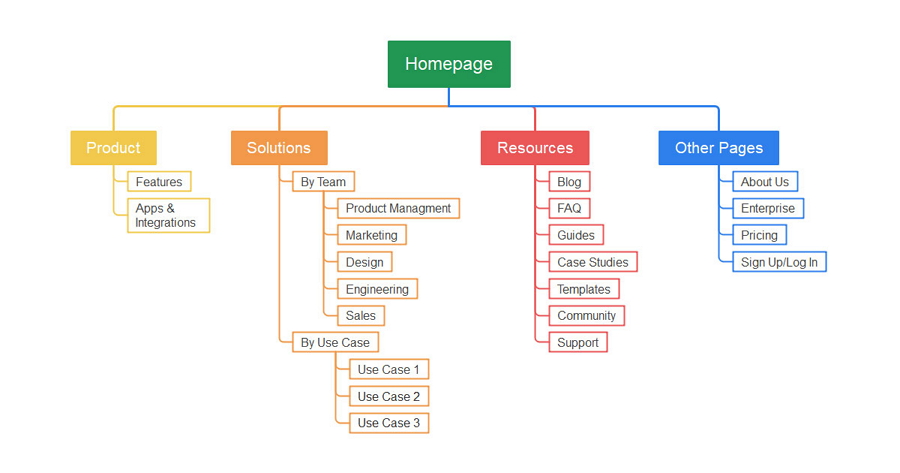 When working on a website project, before starting to design web pages from one to one, the first thing for designers is to brainstorm a sitemap with mind maps. It helps to sort out all key pages and decide on the hierarchical and navigational relationships between them. You may also showcase this mind map with your teammates and discuss the details.
23. Website homepage planning mind map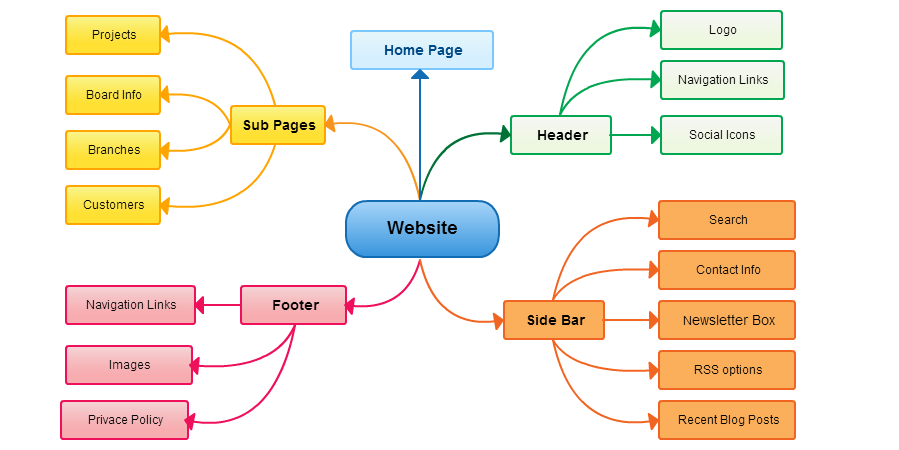 The website homepage holds significant importance as it forms the initial impression of a site. When embarking on a website project, designers employ mind maps to strategically arrange essential components of the homepage, including page navigation, content sections, and design elements. This method ensures a coherent and organized presentation that captivates visitors from the outset.
24. User onboarding mind map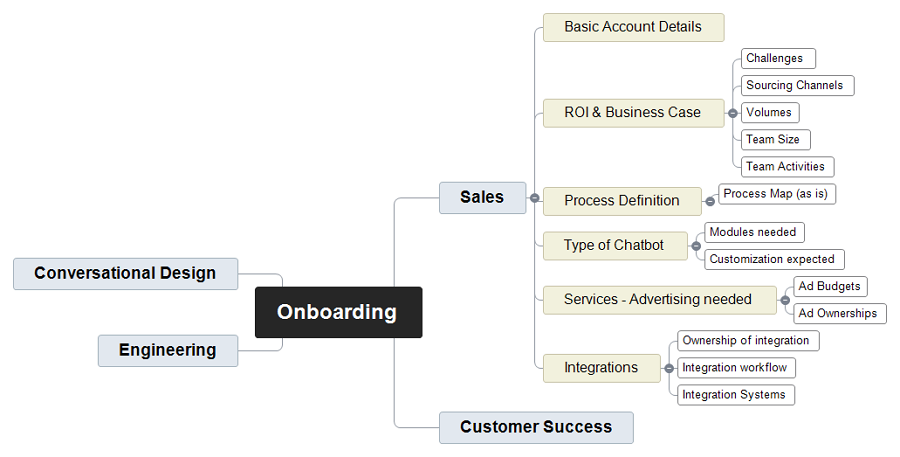 Effective user onboarding holds immense significance for the success of a website or app. In the realm of website and mobile app development, design teams assign paramount significance to the process of user onboarding. When designing user onboarding, you may swiftly explore all potential onboarding steps, activities, strategies, and related aspects.
Other mind map templates
25. Mind map keynote pack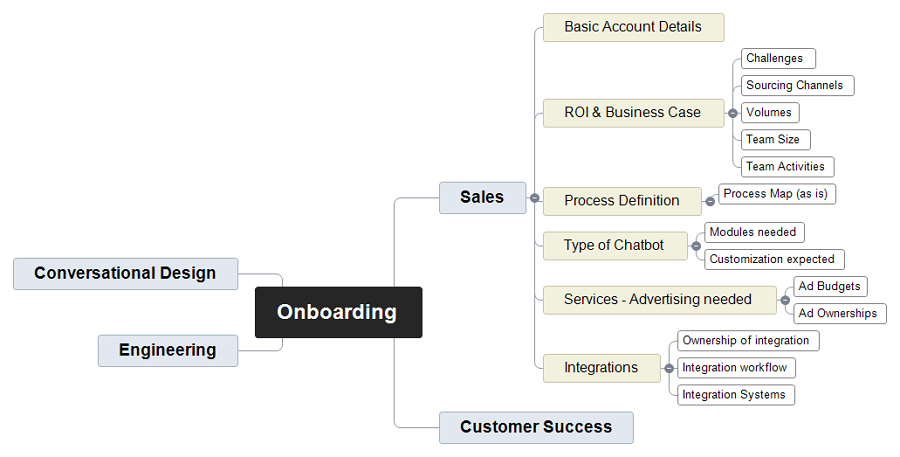 Keynote is a mind map collection that comes from Behance. It packs over 25 mind maps for you to create brilliant business presentations or slideshows. One thing you should notice is you should purchase at least $16 for personal or commercial use.
26. Promotional campaign mind map template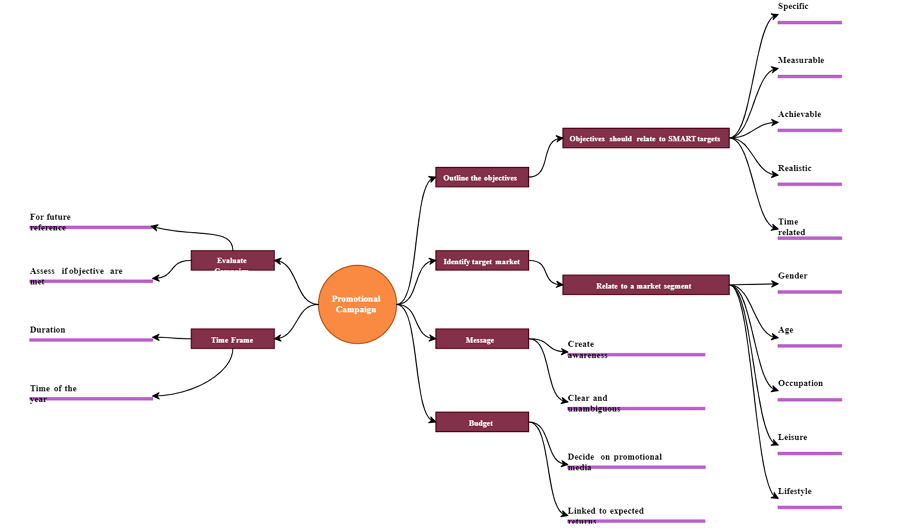 This is a mind map template that helps you plan the coming promotional campaign using Creately. You may easily register an email account and edit details to export it in multiple formats, like JPEG, PNG, and SVG, for better sharing and backup. Go free try it.
27. Mind map infographic template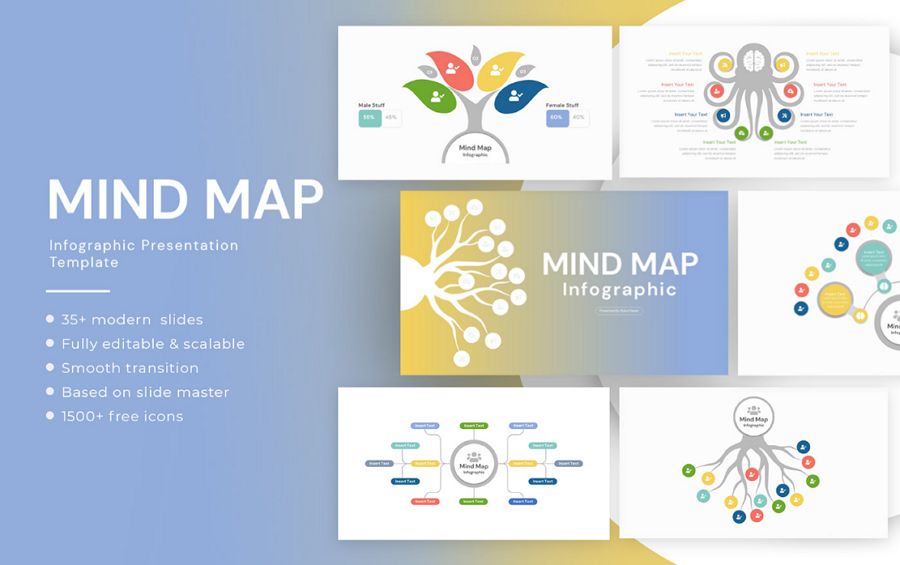 Infographic is another mind map pack that can help you to create a better modern slide. It brings over 35 brilliant mind map templates, allowing you to easily edit, scale, and also add smooth transitions. Over 1,500 free icons enrich the visual details.
28. Free Google mind map template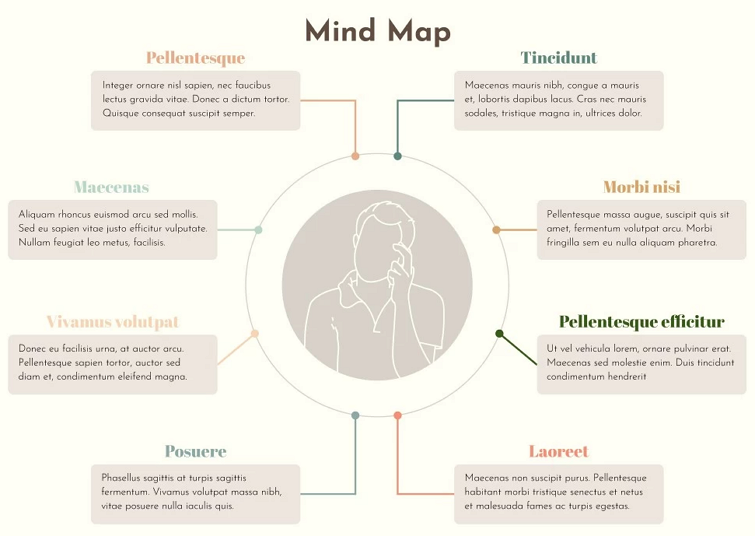 Google mind map is a completely free online mind map template that allows you to easily edit details to create your own. It is a good tool for you to create your own planning mind map simply by setting a goal, dividing it into smaller parts, and listing out the completion steps.
Conclusion
Mind maps function as swift visual aids, facilitating designers and individuals in rapidly planning, organizing, and sharing their ideas and thoughts with heightened ease and efficiency. Their versatility spans various domains including UI/UX design, online learning courses, and more. We aspire that this collection of 28 mind map examples and templates not only enhances your comprehension but also serves as a wellspring of inspiration for seamlessly crafting your own.
Free prototyping tool for web and mobile app design
Free prototyping tool for web and mobile app design
Free prototyping tool for web and mobile app design